Necklaces as a fashionable addition to any outfit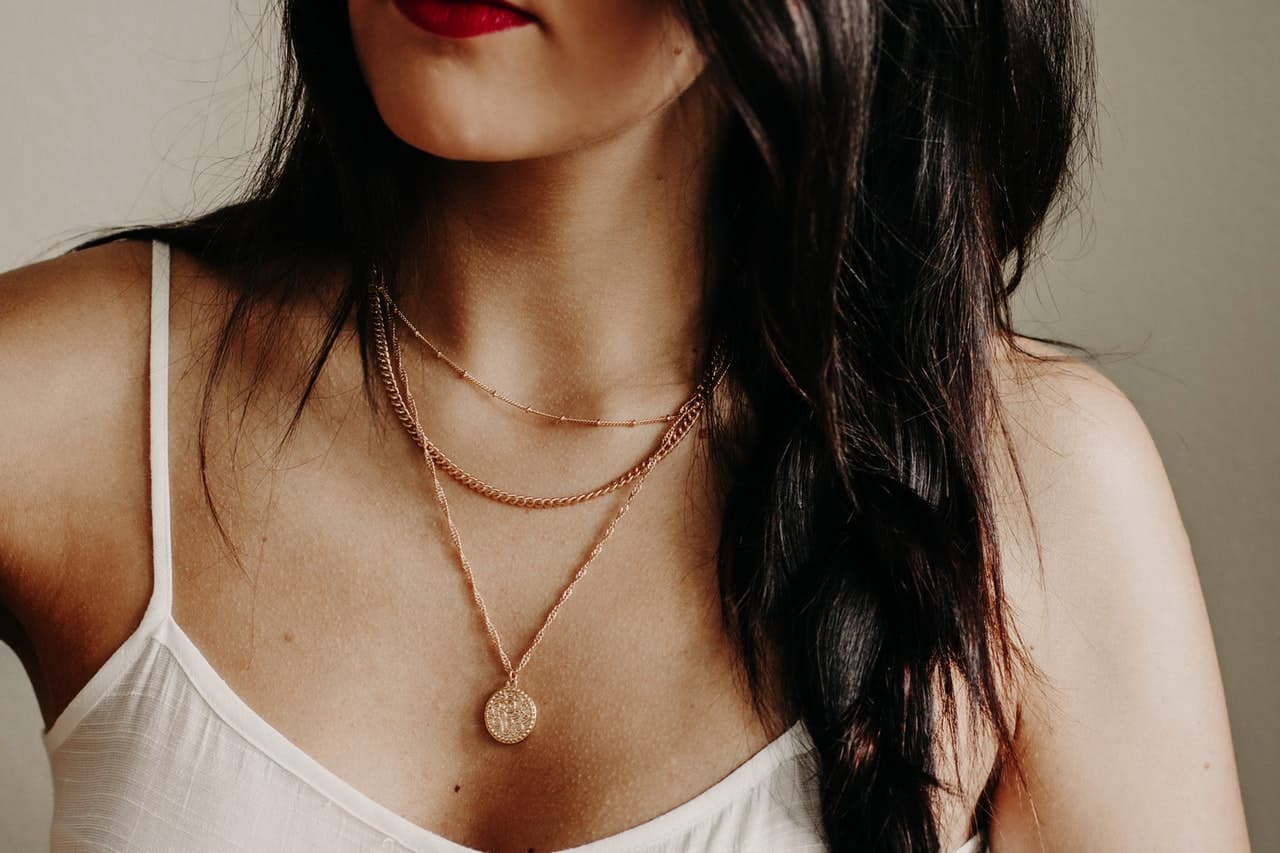 You need about 4 min. to read this post
Necklaces are very classic and according to many women the most comfortable jewelry. That's why they are suitable for every styling and every occasion. Whether it is just another day at work, an important exam or a wedding, there are so many models of necklaces that there is always a suitable one.
Necklaces for sporty outfits
Sporty outfits often scare jewelry lovers, because it seems that it is impossible to match glitter with this type of clothes – nothing more wrong! Necklaces can be both beautiful and comfortable. Have you heard of celebrity necklaces? No, not famous actors or singers, but a type of short, delicate necklace with a minimalist pendant. It owes its name to those who promoted it, namely celebrities
It's a perfect addition to sports and casual outfits. Even with recently fashionable tracksuit sets celebratka necklace will be a great addition to your outfit. If you want to look good on your way to the gym, there is nothing stopping you from wearing such a delicate necklace with your workout outfit. It will be a shiny accent that will liven up your outfit. Just remember to take it off before you start exercising so it doesn't pose a danger to you during your workout or break off by snagging on your clothes
Necklace for formal styling
For a business look, you should also choose the right jewelry. It can add elegance to your chosen outfit and or complement it. If you are looking for a way to add some jewellery to your work outfit or business meeting, once again the favourite celebrity necklaces are the perfect choice. Such necklaces can warm up a very formal outfit or add femininity to a lady's suit or suit, for example. Jewelry can be combined in sets, but you should not overdo it. Wearing a necklace, earrings, ring and bracelet to an important meeting will be a real faux pas. If you wear a necklace, opt for hand decoration, choose a ring or a bracelet. Rather avoid glamour, which will by no means make you look more elegant, and may even create a comical impression. All business styles will like jewelry. Any type of jewelry will work to complement a professional outfit, as long as it is properly chosen for the occasion.
A necklace as a complement to a party outfit
Whether for a more serious party, like a ball or wedding, or for a simple party with friends at home or in a club, a necklace will be a great addition to your outfit. For a beautiful, richly decorated ball gown, a small, modest necklace will be a better choice than a large, ornate necklace or large beads. On the other hand, for a simple outfit for a house party or clubbing, extravagant, shiny jewelry will make you stand out from the crowd and your outfit will become really glamorous. Guys, if your partner for the wedding doesn't have anything to finish her outfit with, a necklace for a girl can be a very useful and most of all accurate gift. It's also a nice gesture for various occasions, from Valentine's Day to Women's Day to Christmas, jewelry is a reliable gift idea for a woman
If you like bold solutions, the trend in recent years has become to combine jewelry colors, so nothing now stands in the way of wearing a silver bracelet and gold earrings at the same time. Although this combination is not obvious, it will not be rejected, on the contrary – you will surprise your friends and you may become a trendsetter among them!
Choosing jewelry is not difficult, you can even wear a well-fitting necklace for a morning jog. Cheerful sparkles or classic, elegant jewelry models are a perfect complement and a way to liven up any outfit. A necklace can also be a way to express yourself, by wearing a pendant which reflects your character, relates to your interests or zodiac sign. Decide for yourself which necklace will be best for you!
Photo by Kristina Paukshtite/Pexels