Modern furniture for a small studio apartment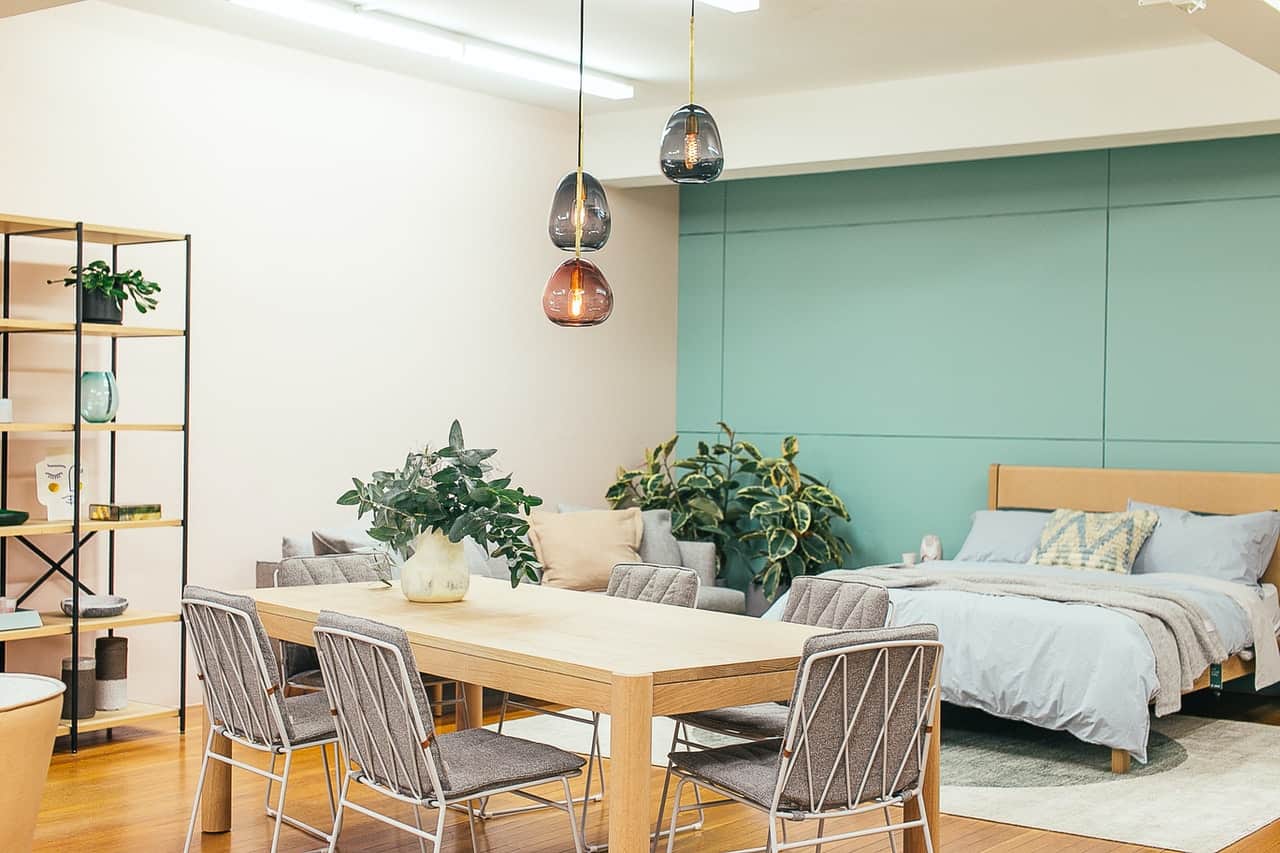 You need about 4 min. to read this post
Every bedsit, even the smallest one, can turn into a stylish apartment if we arrange it properly. Apart from giving it originality and spirit, with a bit of imagination we will also enlarge the available space.
Wall bookcase
In a small apartment, bookcases fixed to the wall of the room are recommended. When you set the furniture flush with the wall, it takes up less space on the floor. And wall-mounted bookcases tend to have slightly thinner profiles than traditional ones.
Wall-mounted bookcases are also a great way to use vertical space in your home to store and display decor. You can use it as an alternative to a nightstand or in the main living area as an alternative with more vertical storage than a sideboard. In a small space, you don't want to use all the space on the floor – look for space wherever possible.
Screen and bookcases
Do you live in a studio apartment? Then it is especially important to create separate spaces and use every square inch. For small spaces like this, it's a good idea to use room dividers to divide one large area into zones. Room dividers give your apartment the illusion of multiple spaces without blocking natural or constant light. And because they are movable, you have the freedom to rearrange and move them for different purposes and layouts.
Choose a bookcase as a room divider. It gives you a way to create separate spaces while providing ample vertical storage.
Seating poufs
Seating pou fs are kept on the living room floor in a small space because they are lightweight and easy to move to where they are needed. This furniture can be used as extra seating, a footrest and a great alternative to a coffee table or ottoman. It can also be easily tucked under a table or bed when you need more floor space. So you don't have to stress and worry about changing the entire arrangement just to get a little extra space.
A coffee table for storage
If you have a small apartment, that probably means you also have a small living room, so any larger sized coffee table just won't do. Instead, opt for an option with extra storage built in. These are great ideas for small apartment owners because they offer the dual function of a coffee table. The above solution offers the perfect place to store media, magazines, and anything else you like to have on hand but out of sight.
Special attention should be paid to round coffee tables for small apartments, as they offer better comfort when walking by them. They lack sharp edges that hit your feet, making them great for family homes, too
Round tables
The same goes for tables for the kitchen or dining room. Round tables are easier to sit and walk around in tight spaces. The curve also provides better flow in a small space, without sharp corners or rectangular shapes that can meet our hips, and these encounters are extremely painful. Additionally, round tables pair exceptionally well with benches, which also provides a versatile seating option in a small apartment.
Pieces with tapered legs
When it comes to choosing furniture for small spaces, it is recommended to choose pieces that are lifted off the floor with slanted legs, as tapered legs provide a more airy feel to the room than blocky legs or furniture that stands directly on the floor, creating the visual illusion of having more space. Use that extra space under your bed or sofa as storage – just stash a few baskets or boxes and you're set
Furniture with tapered legs comes in wooden and metal legs. For a more modern look, go for the metal option. For more mid-century or rustic styles, choose wooden slanted legs, or you can always choose a combination of both in different areas.
Photo by Rachel Claire/Pexels