Eco style in interiors – how to achieve it?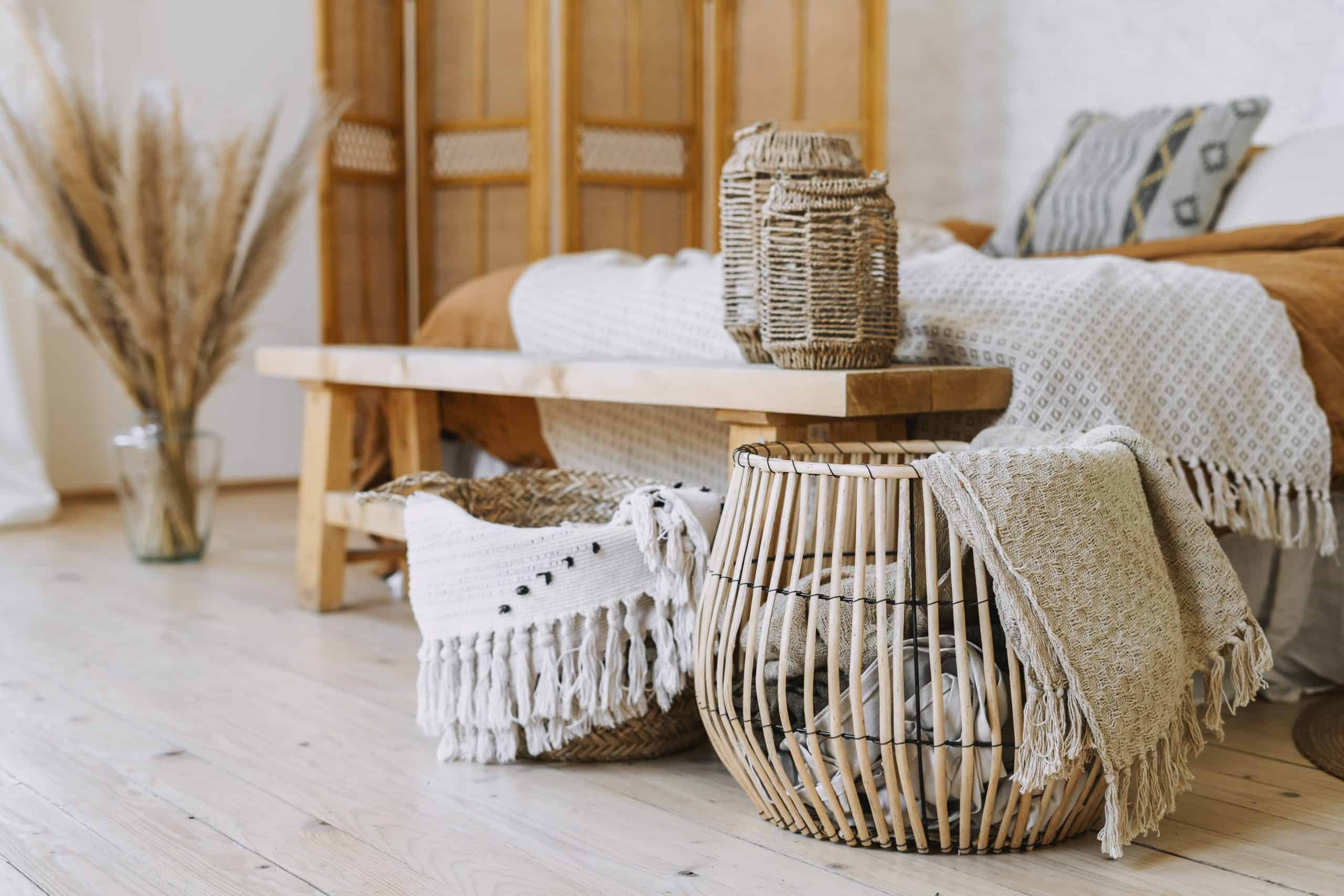 You need about 4 min. to read this post
Fashion for eco style in interiors appeared some time ago and is still popular. Bright colors, accessories made of natural materials – eco style has settled in homes for good.
For whom an eco-style home?
Are you moving into a new house or apartment? Or maybe you are just waiting for a renovation of your home? If it is important to you to live in harmony with nature and you value natural materials that have a beneficial effect on health – bet on eco style in the interior.
How to arrange an apartment in eco style?
First of all, follow the rule "the less the better". Do not buy unnecessary furniture and keep decorations to a minimum. This rule, however, does not apply to plants, which look very good in a home decorated in an eco style. Maybe you should think about a green wall? Vertical garden is a very impressive decoration of the living room, you can even make it yourself.
Go for natural materials
Use items made of natural materials when arranging your space. Make sure they come from easily renewable sources. If you can, keep plastics to a minimum. Furniture and decorations made from natural materials look much better. Need an example? Think about a dresser – a small piece of furniture made of wood will look much better than one made of furniture board.
Give second life to objects
Not everything has to be new! Second-hands stores and Vinted application, popular in Poland for some time, prove that we like to give second life to clothes. Why not do the same with furniture or home accessories? Flea markets and sales platforms are a mine of amazing bargains – you can buy second-hand wooden furniture in good condition for much less than new board furniture. It is enough to diligently search for bargains.
Eco-friendly home accessories? Of course!
We've already mentioned that the perfect addition to an eco-style apartment are plants. But let's not deceive ourselves, plants alone are not enough. What accessories should you bet on? Of course those made of natural materials! Wooden frames for photos and posters, rattan pots, macramé on the wall – there are really many possibilities. You will surely find something that will delight you!
Eco style is energy saving
If you have an eco-conscious attitude to life, you will certainly choose energy-efficient products when choosing electronic equipment for your home. While checking the amount of energy and water consumption when buying a dishwasher or a washing machine does not surprise anyone, not many of us think about the fact that it is worth replacing the old lighting with the new one (LED lamps are energy efficient – it is worth considering their purchase). Do you want to reduce electricity consumption? Opt for light colors on the walls! This will help you make better use of daylight.
Why choose eco style in interiors?
Eco style in interiors is strongly connected with ecological way of living in other areas. For people who are characterized by high environmental awareness, this style is completely natural. However, we must admit that the eco style in the interiors is much more popular than the ecological style in other areas of life. This is probably because interiors decorated in eco style are incredibly cozy. In such bright interiors, equipped with furniture from natural materials, it is very pleasant to rest. We can regenerate much faster in the interior decorated in an eco style than in the interior decorated in a glamorous style, where the wealth of colors, textures and materials will make it difficult for some of us to relax.
Main photo: brizmaker/Adobe Stock