Mini skirt – how to wear it to look stylish?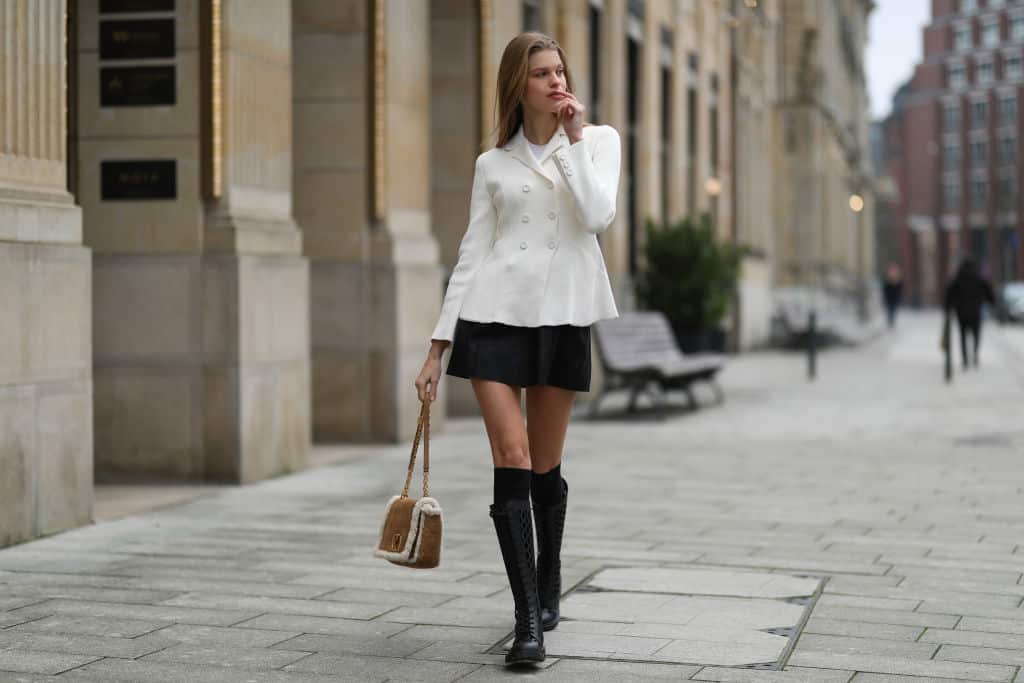 You need about 4 min. to read this post
Mini skirts are often chosen for a party or a date, because of their wide use and graceful cut, allowing you to uncover your legs. However, it is very important to remember a few aspects that will make your outfit look great and original
The mini skirt – a variety of cuts
When deciding on a mini skirt, you have to choose the cut of the skirt, both for the occasion and for your top. Flared skirts look great on you if you have an hourglass or pear-shaped figure. You can wear this fantastic style with long-sleeved tops, thin turtlenecks or tight sweaters. It goes equally well with a classic T-shirt and ramones. What about shoes? Definitely, high-heeled shoes are a perfect match. Sports shoes or sneakers can also be quite an interesting idea.
Clingy, tight mini's are the perfect choice for a date with your loved one. They are also perfect for special events. But which top should you choose? It depends on where you want to go. If you're going to a party, go for a short strapless top or a T-shirt. If you're going out on the town, wear a looser sweater or turtleneck. Shoes? Go for heels or boots and you'll look great!
Trapeze skirts are a great option! Denim or leather versions give you a lot of options. The popular mini trapeze skirt is perfect for meetings with friends or other informal outings. Depending on the fabric of your skirt, you should choose the right top. Jeans or leather skirts should be worn with elegant shirts or long-sleeved tops. In the case of plain material mini skirts, you can wear a thick turtleneck or a sweater with wide sleeves. This will give the whole style a unique and graceful look.
Which tights to wear with a mini skirt?
Of course, if you choose a skirt, you must also choose tights, although – if the temperature outside allows it – you can also leave your legs bare. Denim trapeze skirts look especially great then. Leather skirts (whatever color they are) go really well with black transparent tights. It's also a good idea to try a pattern on your tights. There are lots of them out there, so you might as well go for one that you feel good in and express yourself with.
You may also want to think about the thickness of your tights. Mini skirts have a way of exposing a lot of your legs. This is why you need to protect yourself from the cold during the winter months. When the temperature drops below freezing, go for tights with a density of 100-120 DEN. Often the extra thickness of the tights makes them look even better with short skirts!
Remember to choose the right tights for the right situation. Skip the popular fishnets if you're going for a work outfit. If you decide to wear a mini skirt in some more formal version you must also bear in mind that often "bare leg" is treated as a gaffe.
Mini is for you
Mini skirts can make their way into your closet for good and make you feel great in all kinds of styles. They are fantastic for all kinds of occasions and you can combine them with a lot of clothes. This makes them a really versatile option that will work for both summer and winter seasons. If you're still wondering whether a mini skirt is for you, don't wait a minute! Try one of our styles and feel really sexy and feminine.
Photo: Jeremy Moeller/Getty Images Entertainment/Getty Images