Bedside lamp – which one to choose for the bedroom?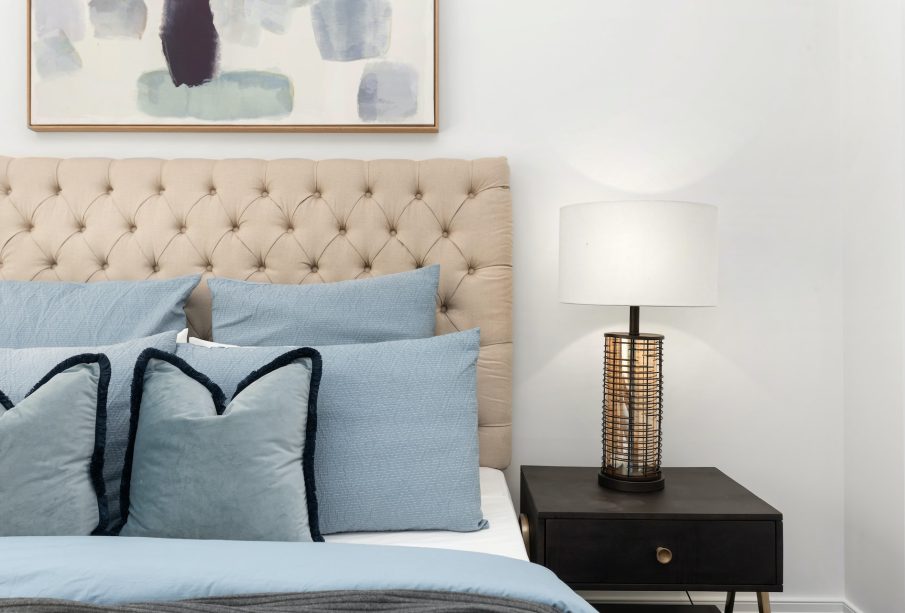 You need about 3 min. to read this post
When decorating an apartment or house, it is worth following universal principles that will help you achieve satisfactory results: first of all, maintain consistency of style and choose solutions that suit your sense of aesthetics. One of the most important additions on which you will have to make design decisions are lighting elements. They will determine the overall climate of the interiors and can add class or completely destroy your vision.
What should the bedroom lighting be?
The bedroom is a very important room. It is where you will rest and relax after a day of work, taking care of the house or taking care of the children. For this reason, it is extremely important that nothing disturbs you in it – in other words: that its interior has a climate that will allow you to truly relax. "Climate" for each person may mean something different, but there are several universal rules that will certainly help you create it. First of all, in the bedroom it is worth betting on three types of lighting: the main light, which will illuminate the entire room if necessary, additional lights placed by the dressing table or bedside tables (these can be wall lamps or bedside lamps), which will be useful, for example, if you like to read in bed, and mood lighting, which will help you create a romantic mood.
An important consideration – the fixture
When choosing any type of light for the bedroom, it is worth remembering not only its function, but also its setting. If you care about building the right atmosphere, aesthetic arrangement and the impression of neatness and elegance, it's better to give up mottled lamp fixtures in favor of simpler ones, matching in color and pattern with the rest of the decor. In the case of these accessories, modesty and matching style work much better than extravagance and grotesqueness. It is worth remembering that this does not at all mean that you have to decide on boring solutions! On the contrary – you are not obliged to choose standard models or decorate your bedroom only in bright colors. If it suits your taste, you can opt for black wall color, gold trim and silk materials (for example, a bedspread). Simplicity is not about limiting ideas and available design solutions, but only about matching them with style and giving the room a feeling of class and elegance.
What bedside lamp will best suit your bedroom?
The final choice of bedside lamp model for your bedroom largely depends on the overall design of the room. Consistency of style and harmony of arrangement are key to achieving the results you dream of, so it is best to follow these principles. If your bedroom is decorated in boho style, bedside lamps with lampshades made of wicker or woven paper will be a perfect solution. Have you chosen a Scandinavian style? Opt for simple models, for example, wire lampshades made of gold-plated metal or minimalist designs. Or maybe your bedroom is decorated in the spirit of japanese? Bedside lamps in geometric shapes with simple, bright lampshades will work great. On the other hand, for those who have decided on the glamour style, metal lamps with fancy legs and delicately decorated lampshades will be perfect.
main photo: unsplash.com/Steven Ungermann