Nails with holo effect – how to make them?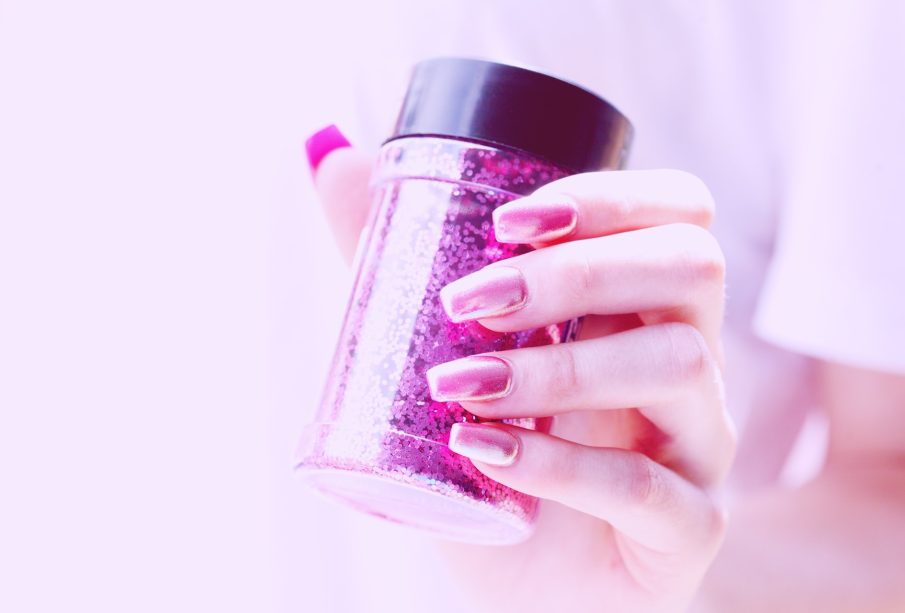 You need about 4 min. to read this post
Nails with holo effect are back in favor. The mirror effect, which reigned a few years ago, was forgotten for a while, only to become a hit again this season. No wonder, it is eye-catching and at the same time very easy to do. How to achieve the holo effect on nails?
Fashionable nails for 2022
Nail trends this season are so rich that there is sure to be something for everyone. Colors that will often be on the nails in autumn are vivid colors, referring to the standard colors of autumn: mustard yellow, chocolate browns, classic reds, bottle and olive green, fuchsia or tangerine orange.
An interesting trend is modern French, which refers to classic French, but gives more freedom, so that the tips of the nails are covered with colored polish. A hot hit are the so-called aura nails, nails that are supposed to refer to everyone's energetic aura. Nails in this style are made of at least two varnishes, applied in such a way as to create a blurred effect.
There will be no shortage of dark, black manicures, straight from gothic styling. Nails in autumn will also flare up with speckles. Shimmering nails, large pieces of glitter or smaller particles, as well as the holo effect – glitter will reign in the coming months.
How to get the holo effect?
Holographic taffeta on the nails is back in fashion circles. What is this effect based on? Holographic manicure resembles reflected light on spilled gasoline. A million glittering, three-dimensional particles create an extraordinary impression, so the manicure will work for a big night out, as well as for everyday use.
The holo effect can be achieved in three ways: with pollen, using holographic polish or holographic transfer film. Products for creating a holographic plate are readily available, as each of the well-known brands of hybrid varnish, such as NeoNail, Semilac, Indigo, have them in their offer.
Holographic taffy is very impressive, and at the same time simple to make. There is a wide range of products available on the market that contain a holographic finish and come in different shades.
Holographic dust 
Before making a manicure, you need to prepare: a top, pollen, a special bead, a UV lamp, a base and the chosen color of hybrid varnish. The pollen can be applied to any polish.
Give your nails the desired shape. Peel back the cuticles, gently cut them, then use a dust-free swab to cover the nails with a degreasing liquid. Apply a base coat, then put your hand in a UV or LED lamp. The next step is to paint the nails with the first layer of hybrid polish, so as not to flood the cuticles. Again put your fingers under the lamp to cure. Apply a second coat of color and repeat curing. Now it's time for holographic pollen. Apply a small amount of pollen to the nail with a cotton pad, then rub the product into the plate in a circular motion, not forgetting to cover the edges. Finally, cover the nails with a top coat and harden, then wipe with a dust-free swab.
Holographic nail polish
Holographic nail polishes are available on the market, so you can achieve the desired effect right away. Proceed as you would when painting with a classic hybrid polish. Remember to apply two layers of polish and a top coat.
Transfer foil
Transfer foil is another way to achieve a holo effect on your nails. The foil can be applied over any color of hybrid polish. Just reflect the foil on the wet nail surface and quickly peel it off. Another way is to stick the foil on a special transfer foil adhesive.
main photo: unsplash.com/Alexander Grey