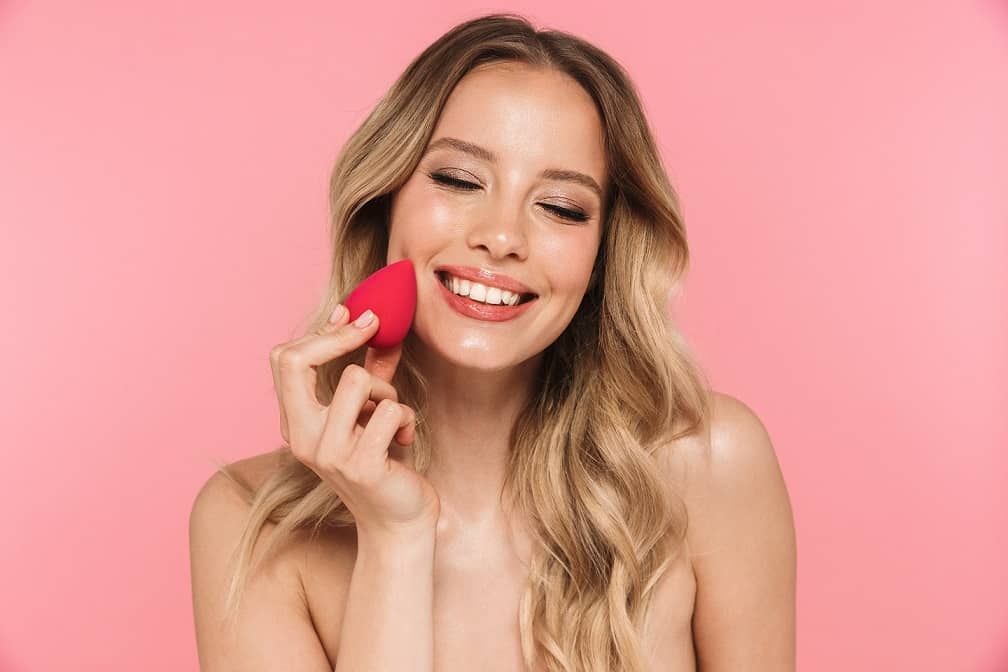 You need about 4 min. to read this post
Founded by a professional makeup artist from Hollywood in 2002, BeautyBlender has gained huge popularity all over the world with its iconic pink sponge. In this article we describe how to use the beauty blender.
How to use a beauty blender?
Makeup sponges are suitable for everyday use and are versatile, so you can use them to apply and blend not only foundation, BB and CC creams, but also concealers, highlighters, cream contouring products and blush. Additionally, sponges can also be used for powder application. There are a few universal rules for getting the perfect makeup with a beauty blender. Stick to these tips and this amazing sponge will be able to replace most makeup brushes.
1. Moisturize your beauty blender
To ensure that your beauty blender doesn't absorb too much cream or cosmetics and spread them in an even layer on your face, it's necessary to moisturize it lightly in water. Even if you use your blender for powder, it should be slightly damp. Why? This will save you not only the amount of foundation you apply, but also the time it takes to blend it.
2. Don't apply foundation with a sponge
Many makeup tutorials or instagram bloggers apply a lot of foundation on a beauty blender first and then use a sponge to spread it on the skin. However, you should not imitate this behavior
The correct use of a beauty blender should look just the opposite: first apply a small amount of foundation to the palette or your hand, then dip the sponge into it and spread the product on your skin.
Another option is to apply the foundation spot-on to your face and then simply blend it with the sponge using light patting – not smudging. This will reduce the amount of foundation needed for an even complexion, and your makeup will look more natural.
3. Follow the right contouring sequence
If you're using cream or liquid contouring products, blot the dark shades first, then the concealer, and finally the highlighter. This will keep your makeup from looking sloppy. If your contouring doesn't work out or you use too much blush, you can use a sponge to spread the concealer over the darker products. This avoids fine lines, which will make your contour invisible.
4. The right way to apply your makeup
Remember, a blender is not for rubbing makeup products into your face. If you try to spread or rub the products, the color may turn out uneven. Also, this method of application is harmful to your skin. Always apply foundation with a gentle, patting motion.
5. The powdering principle
When powdering your makeup, it is important to use a sponge rather than a brush and apply a thick layer of powder to the desired areas. It is best to apply powder in an even layer so that the skin absorbs as much powder as needed. This will ensure that your makeup lasts well and there is no greasy sheen.
How to clean a beauty blender?
Cleaning your beauty blender after each use is extremely important to prevent bacteria growth. Since you usually use this sponge wet, bacteria multiplies faster. So don't be lazy and always clean your blender after use.
Don't ignore the cleaning instructions for this accessory. You can wash the cosmetics off the tool with a special beauty blender detergent or a regular shampoo.
When rinsing, don't stretch or rub the blender too hard to avoid damaging its structure. Place the sponge between your palms and gently press it down.
If your foundation is very long-lasting and absorbs deeply into the blender, apply a small amount of body oil (coconut oil and almond oil also work great) to the sponge before shampooing. Let it sit for 10 minutes, then soak the blender in a solution of warm water and shampoo.
Never dry a sponge on a radiator or put a wet tool in a zippered cosmetic bag. For proper drying, ensure air circulation so that bacteria and mold do not multiply in the sponge. You can dry your beauty blender on a tissue or towel
Store your beauty blender in a ventilated container. Preferably the one you bought it in. Ideally, you should change your blender every month. However, if you wash it with soap after each use, it will be bacteriologically neutral for three months.
Photo by Drobot Dean/Adobe Stock