Women's wedding shoes – which ones to choose?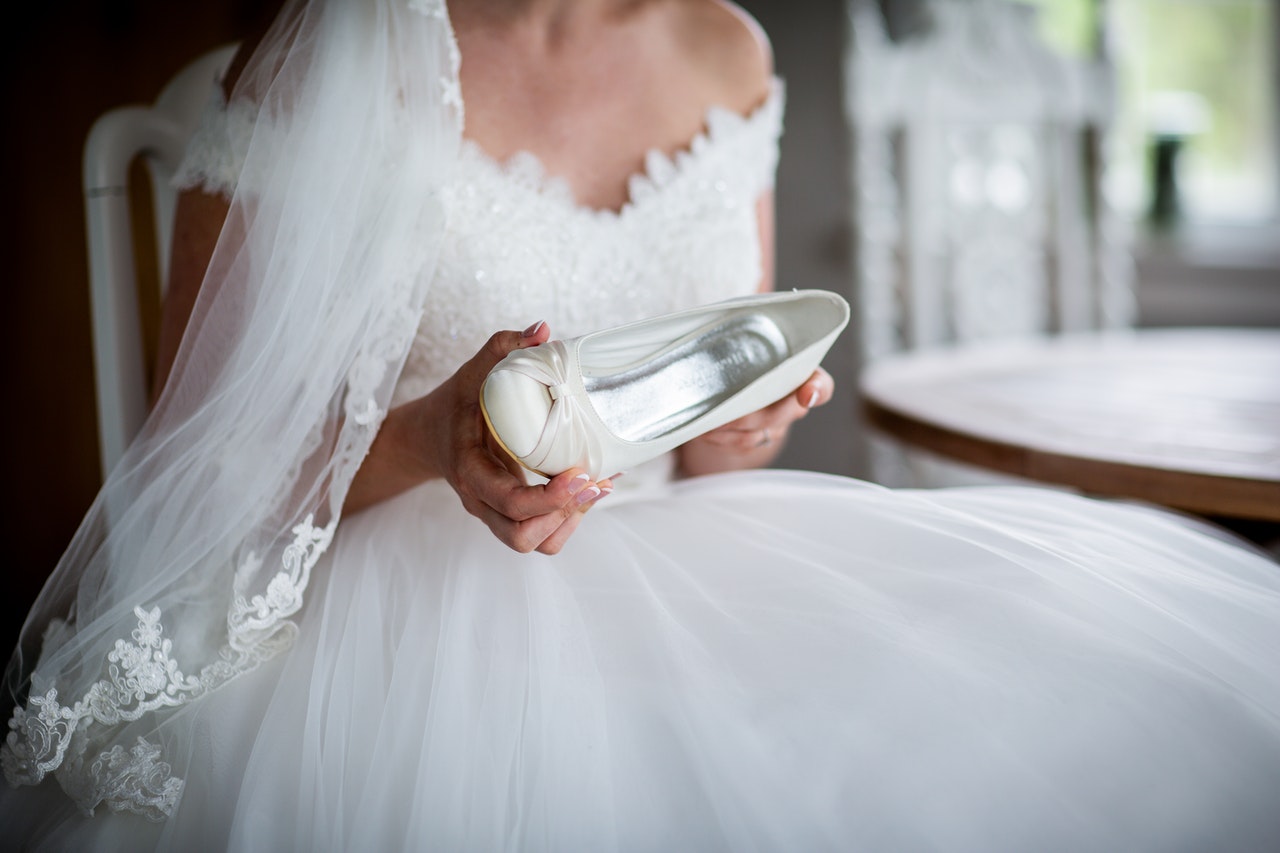 You need about 5 min. to read this post
On her wedding day, every bride wants to look like a real princess. What shoes should you choose to not only look good but also be comfortable? Take a look at our advice!
Wedding shoes – how to choose the right ones?
Interestingly enough, for many women who are planning their wedding style, it is not the choice of dress, make-up or hairstyle that is the biggest problem before the wedding, but the choice of shoes. shoes! No wonder, after all, you have a long intense night ahead of you filled with dancing and fun, during which all eyes will be on you. So it is important that you feel comfortable in them. Shoes that are too tight or uncomfortable can spoil the party, and you want this one of the most important days of your life to be perfect in every way
Wedding shoes, just like other accessories, should be bought well in advance, so that you have enough time to "unlace" them and make sure they fit your feet perfectly. Moreover, you will need them when measuring your wedding dress, so that when you put the shoes on, it will not turn out to be too long or, on the contrary, too short. Shoes should be matched not only to your wedding outfit, but also the weather and the nature of the place where the wedding takes place, and often many people forget about this. Other shoes will work during the event in the wedding hall on a stable ground, and others for example in the open air on the grass or beach. When choosing a particular model, their color scheme is also important. More and more often future brides give up classic white shoes in favour of other shades. Very popular are shoes in ecru color or light pastel shades of pink. Many women also reach for gold or silver or more ornate variants of shoes with elements of lace or crystals. The material from which they are made is also not without significance. It is important that it provides adequate ventilation and comfort of wearing.
Wedding Shoes Low
In case you are planning a longer, all-night wedding, flat or low-heeled wedding shoes can be a good option. Thanks to them you can be sure that after several hours of activity your legs will not be tired. Such footwear will work well with both long and short dresses. This is also the best option for those who are planning an outdoor wedding. Uneven stone or sandy ground is never the ally of high stilettos, and in such cases it is definitely better to opt for wedding shoes with low heels.
Wedding pumps
This type of footwear is one of the most popular choices for brides. No wonder, classic pumps look great with almost any styling and are easy to match with dresses of different lengths or styles. They look beautiful when paired with both a long flared wedding dress and a tighter, figure-enhancing one.
Wedding shoes with embellishments
Want to bring a touch of extravagance to your wedding styling? Opt for models with extra embellishments. Striking wedding shoes with pearls, crystals, sequins or lace are motifs that are hard to pass by indifferently. Remember, however, not to exaggerate with the amount of decorations. Such footwear will definitely work better with more modest, delicate dresses. If your dress is bold enough, it's better to give up too sophisticated models of shoes and bet on white, classic stilettos according to the principle that sometimes less is more.
Stiletto wedding shoes
This type of shoe has been popular for many years as an alternative to high stilettos. The wide, stable heel will make you feel comfortable in them throughout the wedding
Silver Wedding Shoes
With shoes like these, every look gets a unique touch. Such a glamour style accent will certainly work for example when paired with a short, fitted wedding dress. Add glamorous silver jewelry and you can be sure that on this important day you will be a real star of the evening.
Gold Wedding Shoes
Gold shoes and accessories can be a great wedding accessory as long as you don't overdo it. Gold wedding shoes look beautiful on the foot. If you decide on such color scheme it is better to resign from too strong, massive gold jewelry. Delicate earrings or a chain will be enough in this case.
Boho wedding shoes
Boho style has also taken over the wedding market. More and more couples decide to have a wedding in this climate. For a boho style dress, it is worth choosing wedding sandals with delicate straps and embellishments in white or other light shades, such as pastel pink or ecru.
Platform wedding shoes
How about shoes with an elevated platform? This model is a popular choice for brides, but you need to remember not to pair them with delicate, airy dresses, as they can be too massive for the nature of the entire wedding styling. If you want to go for a more daring, rocker look on your wedding day, however, such footwear may prove to be a hit.
Photo by Rene Asmussen/Pexels