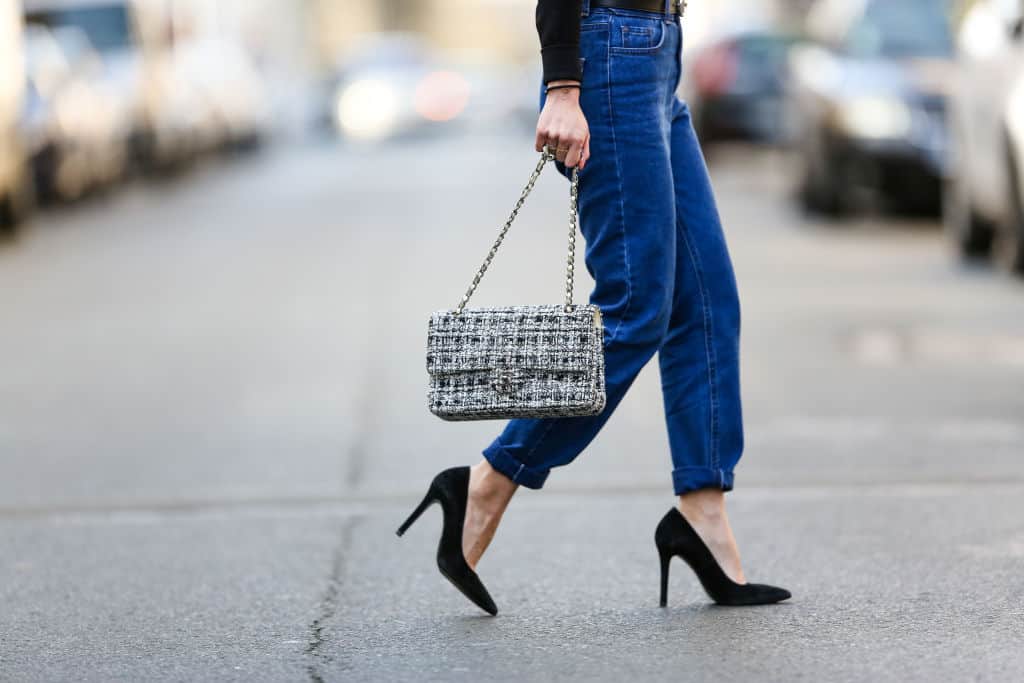 You need about 4 min. to read this post
Stylish jeans are one of the most versatile and timeless closet pieces you can own. Whether you're going shopping or out to lunch with friends, you can incorporate jeans into your outfits. With a ribbed waist and loose legs, mom jeans should be in every woman's closet! If you're not sure how to wear mom jeans, we've put together a selection of our favourite looks.
What are mom jeans?
Very popular all over the world, mom jeans are high-waisted jeans. They also tend to have loose legs, so they emphasize legs and optically lengthen them. Mom jeans are also a great choice for those women who feel comfortable with looser styles. They usually come in a classic blue color without scuffs, but they look equally good with small rips or holes. These pants are the perfect choice for a date or a night out with friends.
Styling for black mom-jeans
If you want to look stylish and a bit daring with black mom jeans, wear a leather jacket and black heeled shoes. This style will make you look elegant, but at the same time it will give you a bit of edge. Black mom jeans are perfect for any occasion. If you want to wear them to work, pair them with a white button-down shirt and go for stylish accessories, glasses and jewelry. There are so many options for styling black mom jeans that you can experiment with them almost every day! They can even be a staple piece in your closet
Go for the classics – blue mom jeans
If you appreciate casual and versatile styling, opt for a classic pair of blue mom jeans. Thanks to the loose fit of these pants you can create a great informal and comfortable outfit. Match with a black pleated shirt and a smart belt. Mom jeans in blue color are the most versatile version of these pants, which goes with almost everything
Light blue mom jeans
Bring a fresh and summer touch to your everyday look with light blue mom jeans. Whether you're planning on going out with friends or heading to the office, this is a timeless style good for any occasion. Light blue mom jeans pair well with white shirts and big blazers for an 80s-inspired look. You can also wear a chunky, light-colored sweater and sneakers if you want to look cute. There are so many possibilities to create a look with mom jeans in the lead role that you certainly won't run out of ideas
Custom mom jeans
Mom jeans with stains, rips or in non-standard shades are a great option for people who appreciate unconventional styling. Such pants models are a fantastic alternative to regular jeans. Put with them a white sweater or T-shirt – they are versatile clothes that can be worn with almost anything. If you like oversize clothes, put a long top (it can be a sweatshirt, sweater, shirt) and complete the look with a pair of heeled shoes.
Torn mom jeans
Change up your traditional mom jeans with a few rips. From a single hole to a series of frayed rips, pants finished this way will highlight your outfit. If you're planning this look for winter, don't forget tights or cabernets – a great way to look punk and stylish at the same time!
With our tips, we hope you find the right style for you with mom jeans! It's worth experimenting and finding your own style.
Photo credit: Edward Berthelot/French Select/Getty Images