Fashionable women's sneakers – how to wear them?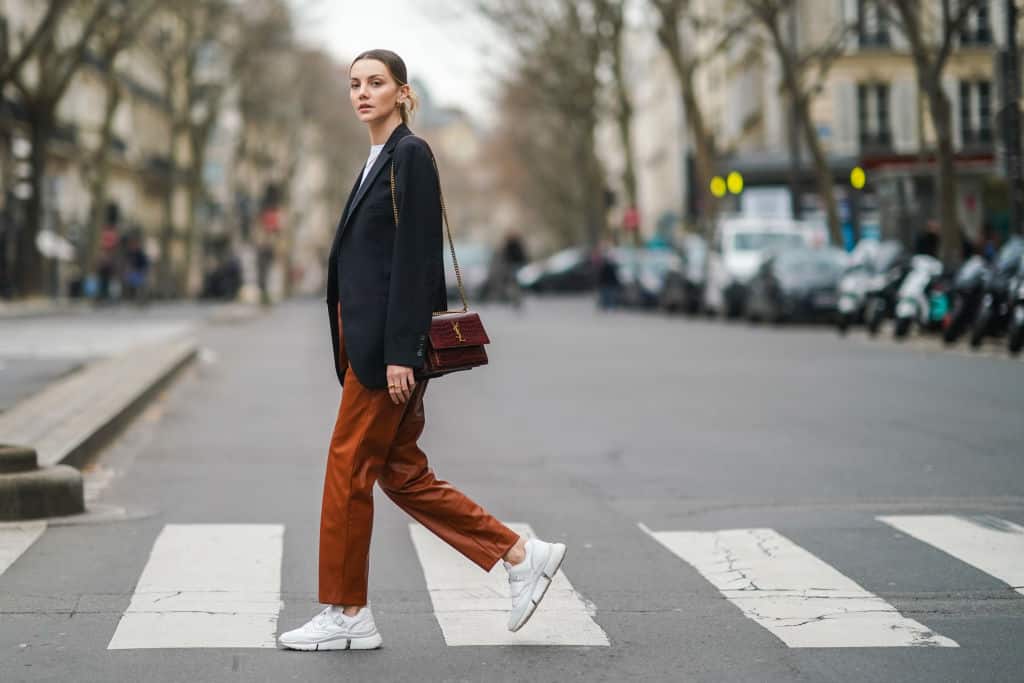 You need about 4 min. to read this post
Sneakers are very fashionable nowadays and more and more women choose them for their daily outfits. Earlier they were not considered as everyday shoes and ladies put them with sports outfits.
Now more and more people are opting for comfort. You too can feel more free! Check what to wear with trendy sneakers and with which combinations they will look stunning.
Fashionable sneakers not only for tracksuits
For a long time, modern fashion has shown us that sports shoes do not have to be worn only with tracksuit pants or everyday dress. Trendy combinations this year present reliable sneakers, which look great with a woman's suit or a suit.
Straight-cut pants look great in combination with these shoes, which are not only very comfortable, but above all versatile. Even jacket in this combination will not be a fashion faux pass. Just match the color and pattern of the sneakers to the occasion and you will look stunning
Light-colored, for example beige or white sneakers look great with colorful suits. They are soft, light and very feminine. If your figure is not proportional, remember to choose tight pants or pants with narrow legs. This will emphasize your shoes better and at the same time your legs will not look bigger than they really are. Slimmer women, on the other hand, can wear bell-bottomed or wider-legged pants with chunky platform sneakers.
If the shoes have a pattern or a bright color, choose them for monochrome outfits. This will give you a modern yet elegant look.
Sneakers on platforms and a dress – 80's classic
If you think that sneakers combined with a dress is a modern invention, take a look at styles from the 80s. Sports shoes did not go unnoticed there, even when worn with dresses. Only brave women would wear them with a lace dress and evening black dress.
However, if you are afraid of such combinations, choose a tight-fitting knitted dress or asymmetrical tunic with leggings. You will feel casual and feminine at the same time
Do you want to dance to the rhythm of the 80s and 90s? No problem! Wear sneakers on platforms with predatory pattern and matching dress. To accentuate your look add big gold jewelry and a lacquered handbag.
Sneakers and jeans: Best friends
Sneakers on platforms are also the perfect complement for a denim look. Tight, high-waisted pants go well with low-heeled sneakers and a short top.
How to wear sneakers for a smart look?
Still not convinced about sneakers? Here are some tips to help you match them with your favorite outfits:
If you wear sneakers with dresses or skirts, forget the socks! They can shorten your legs considerably.
Choose the color of your sneakers based on the occasion. White and grey sneakers will be perfect with elegant dresses and suits.
Leave colourful and patterned sneakers for more casual outfits. They will work perfectly with a jersey dress or denim shorts.
If you have rather massive legs, avoid very high platforms. You will slim down better if you choose sneakers on platforms with narrower noses.
For skirts and dresses, choose models that do not cover your ankle.
You should also match the color and pattern of your shoes to your outfit. Light and powder pink sneakers will go well with light-colored dresses and skirts and summer outfits, while colorful and patterned models are great as strong accents with denim, leather jacket or bold styles with frayed jeans or patterned top. Animal prints go well with casual styles.
If you want elegance, bet on monochromatic sneakers or proposals in gray shade. Also, an elevation will not always look appropriate – for a suit and a more elegant style, wear flat shoes. The platforms will work perfectly with a long skirt and jeans, so you can leave them for the evening or time after work.
Photo credit: Edward Berthelot/Getty Images Entertainment/Getty Images