What to wear white sneakers with?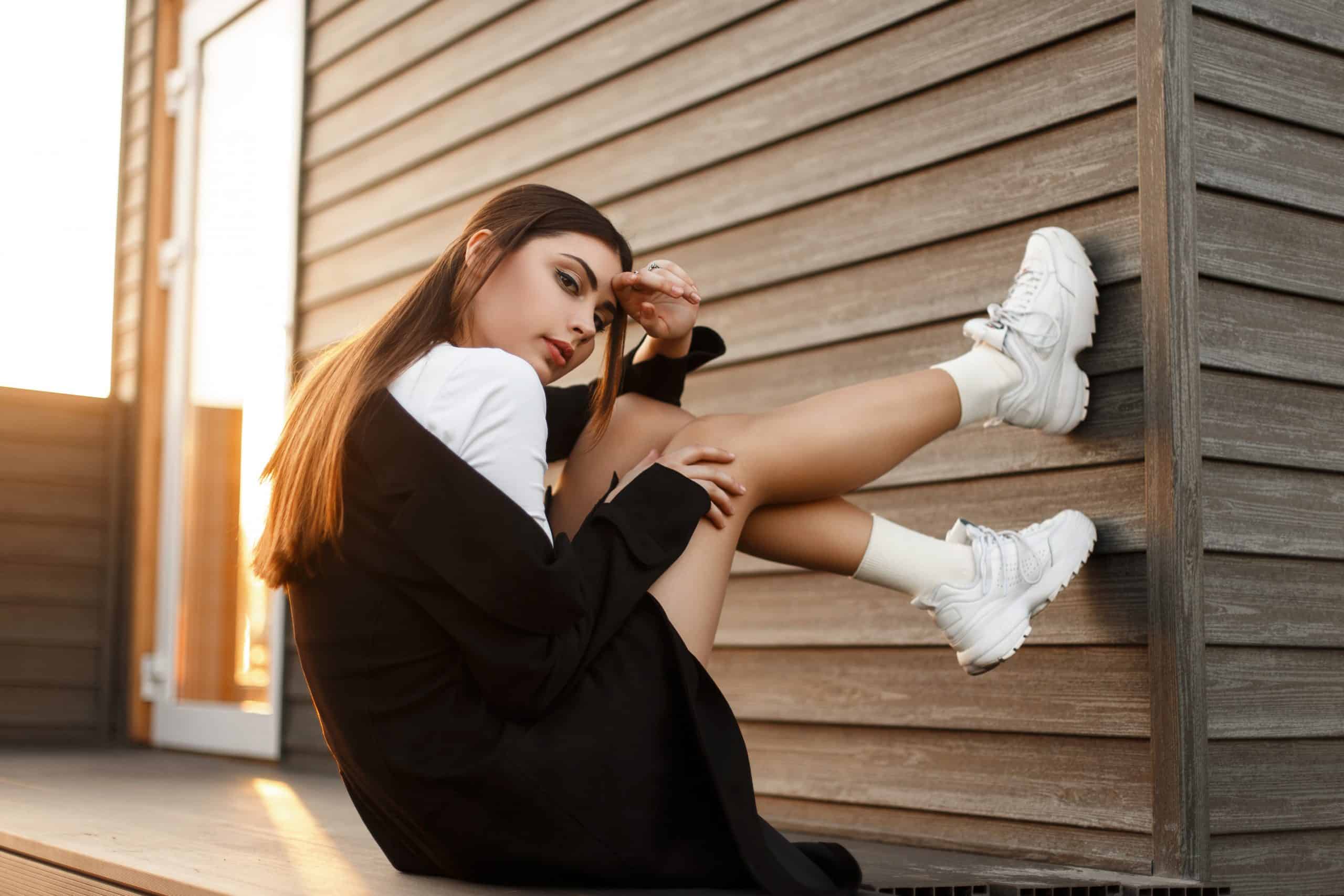 You need about 4 min. to read this post
Comfortable and fitting to almost any styling – white sneakers conquer the hearts of women who appreciate sporty style and broken elegance.
Sneakers are one of the types of sports shoes. Their original use, practicing all kinds of physical activities, was broken many years ago. Shoes created for running and the gym have conquered the hearts of users and entered into everyday fashion. Almost everyone has sneakers in their closet, in which they go to the store or visit friends. Thanks to comfort of this type of footwear we reach for them eagerly and more and more often we combine them with elegant stylizations.
White sneakers – why is it worth it?
When thinking about buying sneakers, which will be a universal addition to every outfit, it is worth to decide on a white model. White athletic shoes can be a little more difficult to maintain than black, but the styling effect is worth the effort. If you want to prolong the life of your white sneakers, clean them after every outing and avoid wearing them when it rains. You can clean your shoes with toothpaste, sanitizer and magic sponges.
White sneakers are an absolute fashion hit. If you follow the latest trends, you cannot do without buying at least one pair. What is more, it is fashionable to combine these shoes with more formal outfits. However, these shoes are much more comfortable than varnishes, moccasins and stilettos. Our feet will surely feel relief. It is not only easier to move and sit in sneakers. These shoes are very comfortable for driving a car or riding a bike.
What to wear white sneakers with?
The phenomenon of white sneakers is that they go well with any styling. They match with tracksuit, jeans and dress. You can wear them with a pencil skirt and cigarette pants. White goes with every color scheme. Can be a contrast to styling or be a consistent complement.
Relaxed summer look
White sneakers are a must-have in your holiday suitcase. They go well with shorts, summer dress and short skirt. They go well with colorful overalls and floral dresses. Thanks to comfortable, sporty shoes we will not be intimidated by many hours of sightseeing and walking. They are a fashionable and comfortable addition to summer outfits.
Office elegance
Women's white sneakers are also perfect for office outfits. If your company dress code is not rigid and does not require wearing high-heeled shoes, you should consider this option. Sneakers will go well with cigarette pants and a suit. They will go nicely with elegant clothes in black, navy blue and bottle green. They will go well with outfits in earthy and beige colors. The advantage of monochrome shoes is that they will also go well with patterned clothes.
Shoes for going out
What was unthinkable for the generation of our parents and grandparents, today is already a practice that surprises no one. Sports shoes are more and more often chosen as an addition to a men's suit or a wedding dress. White sneakers are perfect for this ceremony. If the bride and groom value comfort over classic elegance, then nothing stands in their way.
Sneakers can be a changeable shoe at a dance party. After several hours in stilettos, everyone craves a respite. And what could be more comfortable than flat, well-shaped athletic shoes?
Casual shoes
White sneakers go well with jeans, black pants, short and long skirts. They are perfect for a night out with friends and shopping. They add lightness and girlishness to styling. At the same time they are very comfortable to wear and universal. Sneakers made of lightweight materials are ideal for summer. The foot will not sweat in them. Those with a slightly more solid structure can be worn almost all year round: from early spring to the first autumn frosts.
Main photo: Maxim Azovtsev/Adobe Stock