Boyfriend jeans – how to wear them?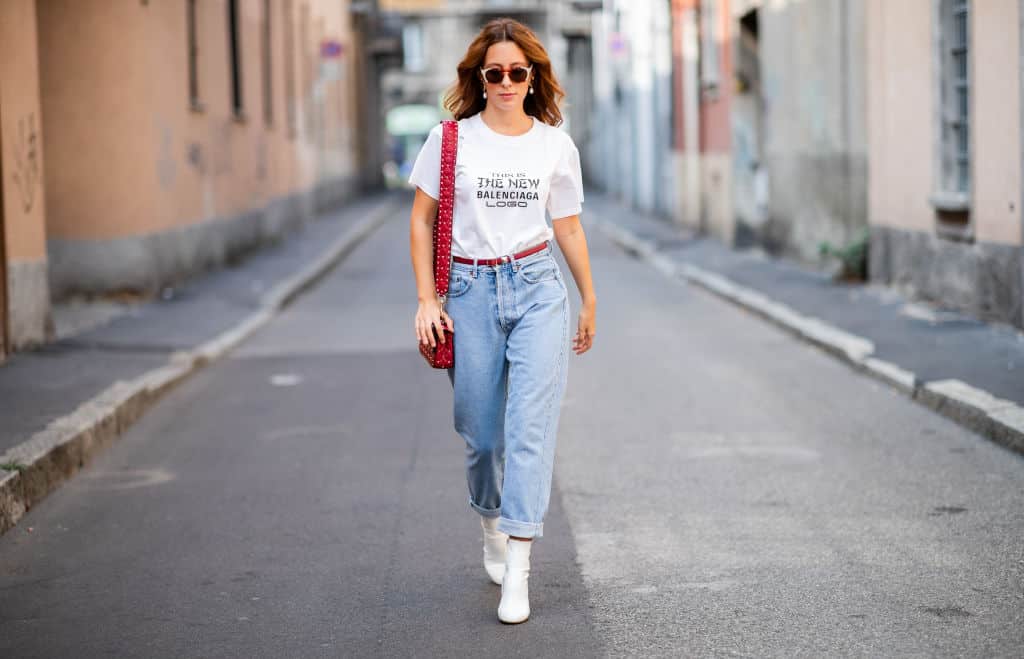 You need about 4 min. to read this post
Boyfriend jeans very quickly conquered the world fashion and became a characteristic element of urban style. They made women feel very elegant, but at the same time casual
If you are looking for a perfect style for yourself, be sure to check out the styles with boyfriend jeans.
How to wear boyfriends?
They match perfectly with combinations, where classics mix with sporty style. Their very original edition with rips and higher top goes well with oversized, plain T-shirts, but also with buttoned shirts
What is interesting, such model of pants, but without ribbing, goes well with a slightly longer jacket. If you additionally roll up the sleeves and put on a classic shirt and stilettos, you will perfectly express the elegant and unforced office style. In this combination you may also mix the classic blazer with a T-shirt or a low-cut bodysuit. The more body-revealing version can be worn for evening, while the cotton blouse is perfect for everyday wear.
You can also combine them with accessories such as a vest or a denim jacket. In both cases they will emphasize slightly sporty style of pants. Quilted vest goes well with wide jeans and is a comfortable combination for a weekend trip or a walk. Denim jacket, on the other hand, goes well with boyfriends, especially if it is slightly oversized and has similar shade or patches. Just add a top or T-shirt for a casual and urban look.
Boyfriends also work well with a knitted sweater. This combination enhances the look and emphasizes the relaxed and casual style. A soft sweater with long strands and a boat neckline that falls over one shoulder is both feminine and soft. If it is oversized, you can tuck the front part behind your trouser belt.
Openwork sweaters with a tight top underneath look very elegant and modern. Openwork and casual cut of the sweater will go well with it.
What shoes to wear with boyfriends?
For many women it is a challenge to choose the right shoes for this model of jeans. Most often it has rolled up legs, which makes it impossible to put on shoes with buckle at the ankle. This combination is reserved only for women who have quite long and slim legs. Otherwise the style may optically shorten them
The safest choice will always be flesh-colored stiletto heels – they slenderize the silhouette and add some class and chic to the outfit. Sporty boyfriends go well with low top flat sneakers. Light jeans should be matched with white or powder pink shoes, while darker models will look great with black or navy blue shoes
Finding a compromise between flat soles and sky-high stilettos, we can also recommend square pumps. Also very fashionable open toe boots will match boyfriends. In order not to take away a few centimetres of height, it is worth to make sure that the line of legs is equal to the line of the top. This trick will definitely give your silhouette a boost.
Who should wear boyfriend jeans?
Boyfriend jeans can be combined in various interesting styles. However, they are not intended for all women. They are characterized by slightly more voluminous, straight legs, which at the end are slightly narrowed and rolled up behind the ankle. In addition, this model is slightly wider at the hips and waist, so it is worth adding a belt to it. The higher top is comfortable, but emphasizes the buttocks
This type of pants adds a bit of centimeters in the girth, and versions with rolled up legs may shorten legs. Boyfriends will be perfect for women with a slightly "boyish" figure. They emphasize legs and hips, while wide back pockets emphasize feminine curves.