Balcony in Provence style – how to decorate?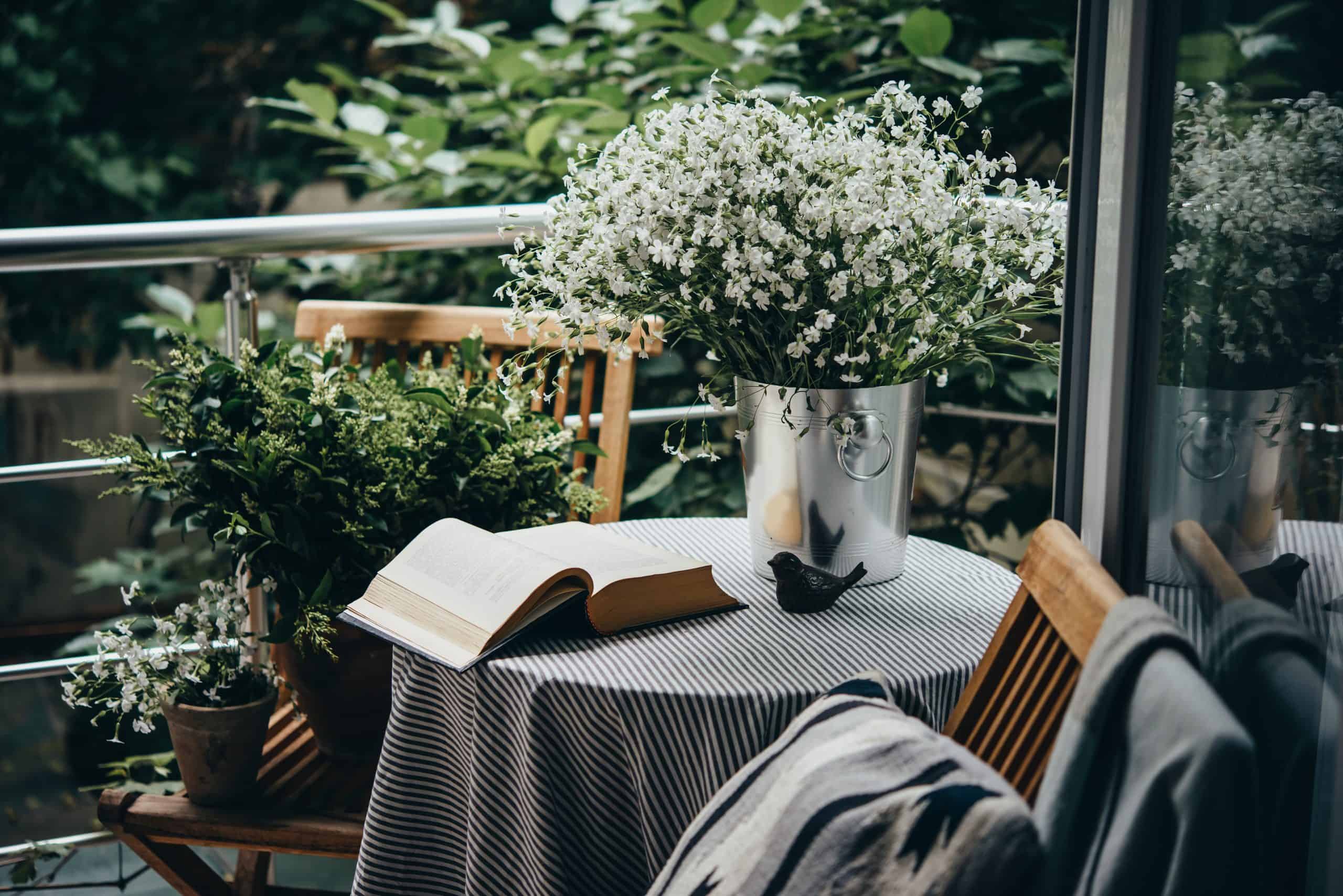 You need about 4 min. to read this post
A balcony in the Provençal style is sure to make us feel relaxed. Both rooms and balconies and terraces in this style make a great impression, despite their simplicity and familiarity.
Provence is characterized by its idyllic character, but its style is reminiscent of palace trends. If you are also a fan of combining rustic elements with glamour accessories, then this article is for you!
Stone and ceramics as a basis of Provencal style
Provence is famous for its houses, which are built of stone, as well as roofs finished with ceramics. These two beautiful materials are meant to protect the inhabitants from the heat, which often occurs in these Mediterranean regions. Among the lavender fields, the sight of stone houses must be charming to say the least.
You can confidently use such materials also to finish your own balcony in a Provençal style. Not only does a stone floor feel raw and very natural, but it is also the perfect complement to your balcony. Resistant to snow and hail, it also has a non-slip surface. It can be wonderfully composed with metal, wrought iron railings.
Ceramic, on the other hand, can theoretically be a bit more difficult to use in decorating a balcony in the style of Provence. However, artificially aged, ceramic flower pots or multicolored tiles of the same material, placed, for example, on the windowsill, will suffice.
Not only a stone floor – wooden planks instead of tiles
Interestingly, a balcony in Provence style does not have to be made on the basis of stone or ceramic tiles. Instead, you can use impregnated old planks. They look quite idyllic, and at the same time natural and raw. They blend beautifully with ceramic pots and metal in the balustrade. They do not have to be impregnated in a modern way or evenly laid. Small gaps or rings on the wood will surely add charm and naturalness to the floor.
Provence – a little bit idyllic, a little bit Versailles
Provence is located hundreds of kilometers from Paris, but for many centuries it has drawn heavily on its style and class. This palatial, mannerist style has left its mark on small decorative elements such as ornate furniture fronts and curved furniture frames. To further express the unique blend of styles straight from Provence, bring beautiful furniture to your balcony that combines a metal forged frame with soft lines and a comfortable seat with armrests.
Such balcony chairs have a somewhat filigree and delicate look, without compromising the comfort of sitting on them. Cabriole legs add to their charm and lightness.
If chairs with metal legs or a coffee table decorated with a glass top seem too heavy to you, you can also bet on rattan. It goes great with this style and is much lighter. Moreover, it is a great complement and extension of the boho style living room. Such a little "romance" with boho elements will definitely work out for your balcony – it will become even more romantic.
Flower pots – the perfect complement to a Provencal balcony
Flower pots made from aged ceramics or stone are also a great addition to a Provencal style balcony. Carved and decorated plant containers will complete the look and make the balcony much more homely and uniquely atmospheric. If you also choose suspended plant pots and make sure to place Mediterranean flowers and lavender in them, you can be sure of a great effect!
If your balcony is full of stone or ceramic elements, wicker is a great substitute. Wicker plant pot covers will make your relaxing place very stylish and Provencal. In addition, they are lightweight, so you can easily hang them from the balcony railing without worrying about them falling off.
For. Gregory Lee/Adobe Stock