Red dress not only for the bold. Here are some fashion inspirations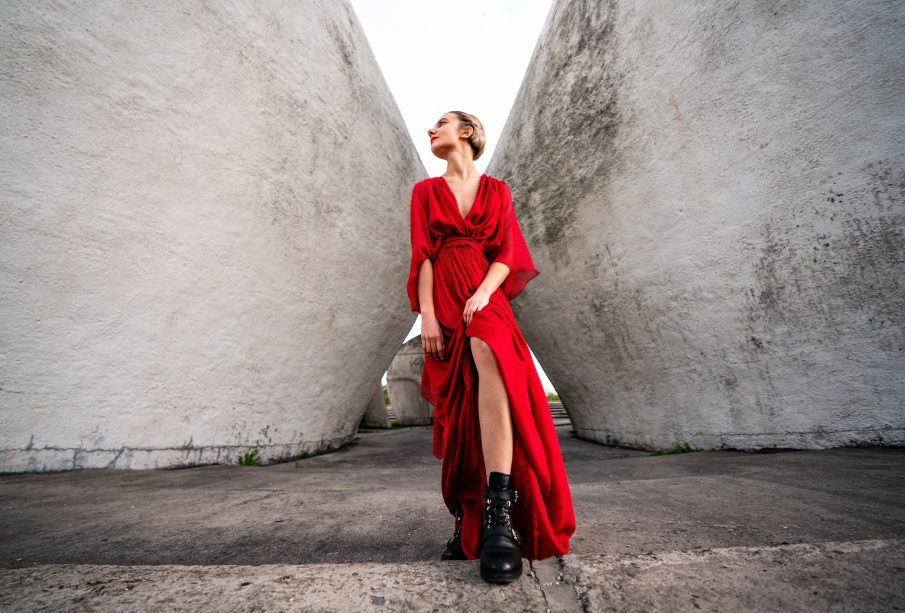 You need about 3 min. to read this post
Red dress is one of the most recognizable symbols of feminine style and elegance. How to wear these unique creations and feel special?
Evening chic
The first association that comes to mind in the context of the phrase red dress is an evening, elegant creation. This is as correct an association as possible, because red itself is a symbol of love, life and feminine sex appeal. In this edition, the color of the dress should be juicy and full, so that it emphasizes the uniqueness of the occasion for which it is dressed.
Red evening dress works best in combination with black classic stilettos and gold accessories, which add to the overall glamorous effect. For elegant styling, cuts with a deep cutout on the back, neckline or spread from the thigh down to the ankles work well. However, it is advisable not to overdo this type of model and not expose everything in one dress, but opt for one element and emphasize the waist.
Spanish dress
The summer version of the dress in red is one of the timeless creations on hot days. The red Spanish dress is great for summer vacations, highlighting the summer tan. The most popular models have not only the characteristic ruffle at the neckline, but also at the bottom of the dress. Trapezoidal construction of this type of dresses allows it to fit any type of female figure. To emphasize the waistline, a belt is useful, preferably in black.
Casual version
Red dress does not have to be dressed only for special occasions, but can also be part of everyday styling. In this case, models of flared dresses, made of delicate, airy material, which, combined with appropriate footwear, can be the perfect everyday styling, work well. If you are frightened by intense red, then look for models in peas or large flowers, which will give a unique character and enliven the whole styling. Casual red dresses combine well with white sneakers or sandals in subdued colors.
Lace and sequins
Red dresses can, in addition to classic patterns, take on a more crazy and extravagant character. In this case, red sequins and lace are added. Sequin dresses in shades of red are most popular during New Year's Eve and Carnival. At this time, shiny styles work best, and the red color adds even more character and flash that allows you to stand out from the crowd. The lace version, on the other hand, is neutral and can work well for both a romantic date and a family gathering, it all depends on the right cut of the dress. More fitted models and with a larger cutout on the back or neckline will be a better option for an evening with the other half, while loose cuts with numerous ruffles decorated with lace are great for less intimate meetings.
main photo: unsplash.com/Oksana Taran