Emmanuelle Alt – what distinguishes the style of the editor-in-chief of French Vogue?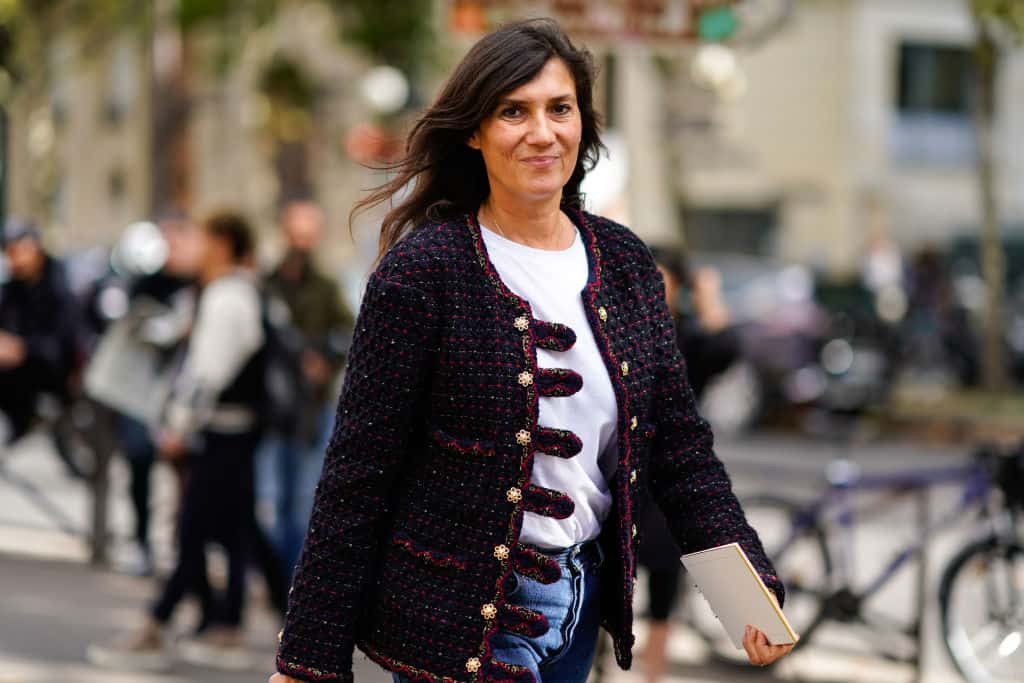 You need about 4 min. to read this post
Elegance, good taste and excellent looks are the terms that well describe the style of the editor-in-chief of French Vogue. She is also distinguished by her love of "Parisian elegance" kept in simple forms. Emmanuelle Alt proves that with a good "base", a nice bag or shoes are enough to look spectacular. Want to know more about her style? Read on
No one understands the Parisian look as well as Emmanuelle Alt. The editor-in-chief of French Vogue is a true style icon in the fashion world. The 53-year-old Frenchwoman is distinguished by her love for a simple, sometimes austere style with a touch of rock claw, which is a constant source of inspiration
Emmanuelle Alt has a strong aesthetic based on tight pants, wide T-shirts, checked shirts, stilettos and studs. It is a very rocker look at times. She appreciates high quality and does not buy clothes from chain stores. Her favorites are Sandro, YSL, Balmain, among others. These are undoubtedly some of the best brands, which are distinguished by excellent tailoring and sophisticated styling
Natural chic
As the daughter of a model, Alt has always been involved in fashion. Thanks to her innate ability to pick and choose styles that always seem nonchalant and ingenious. Few people can look so fashionable without trying so hard. Emmanuelle knows how to create the perfect mix of rock chic, Parisian chic and rebellious tomboy look
A distinctive style
Like her predecessor Carine Roitfeld, Emmanuelle Alt also has a distinct style. She is a true tomboy, so she hardly ever wears dresses or skirts. Pictures of Alt in a skirt or dress are practically non-existent! Her favorite clothes are jeans, leather pants or leggings. On the other hand, for the top she chooses simple and casual shirts or blouses, over which she usually wears a jacket. She almost always wears pumps or boots on her feet and her top accessories are simple bracelets and belts. Emmanuelle Alt's dark hair always falls loosely across her face. Like other Parisians, she prefers a natural look. Whether she is wearing makeup is barely visible and her skin always looks amazing.
Color blocking? No thanks!
Using bright or multiple colors in an outfit is something Emmanuelle Alt does not do. The editor prefers to dress in black or white with an occasional touch of light blue or olive. At first glance, her closet seems boring, but because Emmanuelle has a lot of experience in styling, she always manages to surprise with something. She once told a reporter from The New York Times about her monotone color palette: "I think you can create a very strong style without being shocking. Looking at Alt, it seems to be true. Although her styling is modest, Alt is steeped in fashion!
French Girl with a Rock Claw
Emmanuelle Alt effortlessly combines leather pants and jackets with elegant blouses and Louboutin shoes to create chic and original looks. Alt loves to show that she comes from France. Proud of her roots, she likes to wear sweaters with a Breton stripe. As she once told the Huffington Post: "Paris and London are two very different worlds. I am absolutely Paris!"
Among her favorite pieces are leather pants, tight jeans (which she wears slightly past her ankle), leather biker jackets, oversize jackets, animal prints. She also likes flared pants, masculine shirts (with sleeves rolled up to the elbow), classic cotton shirts with horizontal lines, and various types of blazers. As for colors, he favours white, black and grey and often wears "black on black".
Accessories: She wears belts on her jackets to accentuate her figure.
Shoes: pumps, stilettos, boots and black shoes.
Make-up and Hair: Alt is not a flashy or outspoken woman so she opts for natural make-up and straight brown hair that falls to her shoulders
Her look fascinates many people, despite being more approachable than other women working in the fashion industry.
Photo credit: Edward Berthelot/Getty Images Entertainment/Getty Images