Curtains for the bedroom – which ones to choose?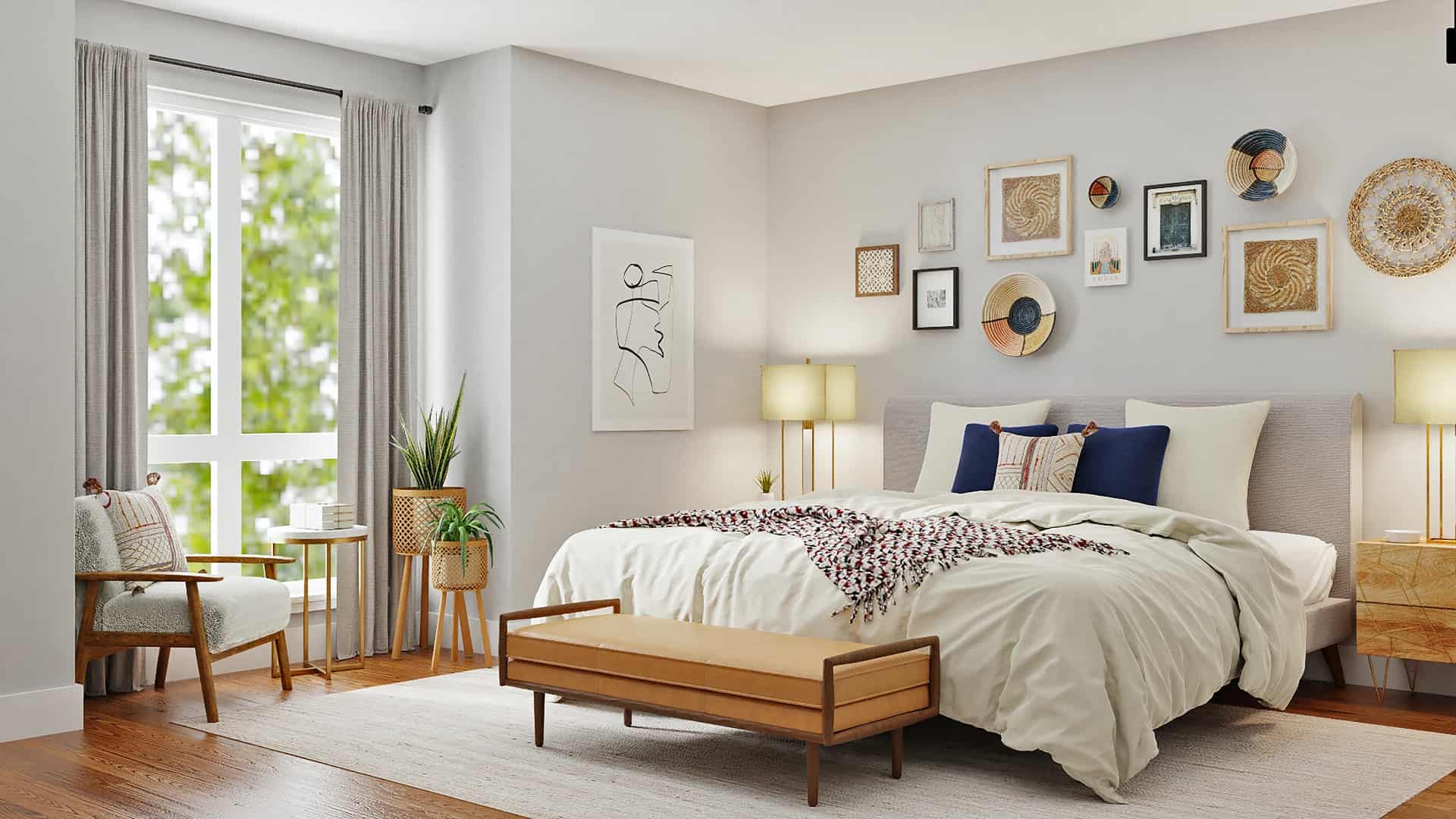 You need about 4 min. to read this post
Despite modern solutions, such as day-night blinds and Roman blinds, more and more people decide to use curtains. They look very romantic and stylish in the bedroom, so it is worth knowing how to choose them for your interior.
What kinds of curtains can you find in home furnishing stores?
Delicate curtains can work perfectly at any time of year. A piece of fabric in your window will certainly give you a bit of privacy and make you feel more intimate. You can also use them to emphasize the arrangement of the interior. Not only will they protect us from prying eyes, but they will also be part of the great design of the room.
Types of curtains
blackout curtains – they are made of a non-transparent material that perfectly stops some of the sunlight and will work well in a bedroom that faces south or a busy street. If your bedroom is situated in the west they will also be a good choice;
semi-transparent curtains – this type of curtains can be hung on the northern side where less sunlight comes in. They protect less from the sun, but are also much lighter, usually made of voile or translucent fabrics such as tulle;
panel curtains – are ideal as a decoration and can be used regardless of the window position. They block the sunlight to a large extent and preserve our privacy.
What curtains should I choose for my bedroom?
If we value our privacy and our bedroom is very bright, a good idea will be curtains, which darken the room. You can choose, among others, voile curtains with a pattern or curtains made of plain fabric with a minimalist look. For a complete darkening of the bedroom, it is worth using, for example, linen curtains. They give blackout, and at the same time are lightweight. They blend wonderfully with interiors in the boho style.
In Scandinavian style, full of simple and natural furniture, smooth and simple curtains made of delicate fabrics will work well. They will contrast wonderfully with furry accessories, such as a rug or natural leather instead of a blanket for the bed.
Velvet curtains will work well for interiors that need better shade. For bedrooms in glamour style models with a spotted copper print fit perfectly. The light shine of the curtains will add gloss to the interior, despite the heavy fabric.
Curtains with fluffy strips of material, resembling fur or feathers, are a very interesting and original addition. They look very light and compose wonderfully in bedrooms of romantic style.
For lovers of the 30's manufacturers have also created thick curtains with a strip of geometric gold pattern. Together with art deco furniture they will look classic and original.
An interesting pattern on curtains – a perfect complement to the bedroom
If your bedroom resembles a romantic corner or is full of boho trinkets, you can bet on equally interesting curtains. They will complete the interior and will also be an additional decoration
Curtains with colourful floral motifs or multicoloured stripes will work well with boho arrangements. Curtains in a glamour bedroom may be more subdued, but if we care about a retro look, we can draw from geometric patterns with floral motifs, which appeared on baroque fabrics. Heavier fabric interwoven with golden thread will make the bedroom transform into a truly royal alcove.
Curtains may also be a very strong decorative accent, especially in more minimalistic interiors. If the bedroom is even ascetic, elongated stripes on the curtain or floral patterns will add a lot of positive energy to this room and can completely change its design. Certainly, the bedroom will become more cozy, especially if you add a blanket or pillows in a similar shade.
Interesting accessories for curtains
Not only curtains can "make" a bedroom. You can also make a bedroom more special by adding interesting accessories, such as drawstrings or clothespins that tie the curtains together when you want a little more light to come into the bedroom.
Photo: Spacejoy/Unsplash