Boho style bedroom – how to decorate it?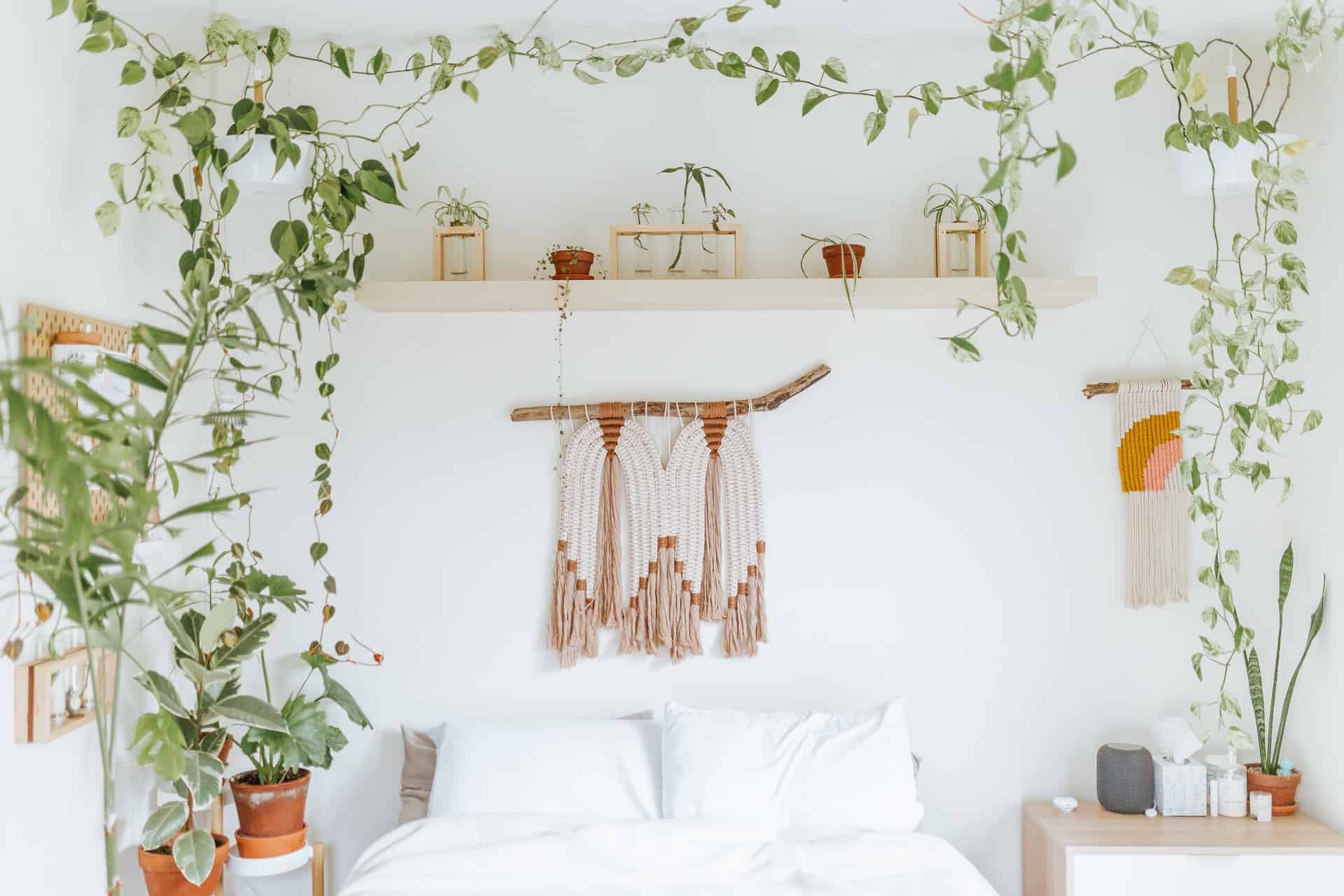 You need about 3 min. to read this post
Retro wooden furniture, plants, craft decorations, ethnic colorful ornaments – skillfully combining all these elements in your bedroom, you will create a stylish interior in boho style.
As in fashion, boho style interiors are characterized by eclecticism. Bright colors, ethnic patterns, handmade textiles and ornaments, and furniture made from wood, rattan or wicker are all essential. Boho style is all about creativity and combining seemingly incompatible elements. But can all this be applied in the bedroom – the kingdom of sleep, rest and peace?
Yes, if you approach the subject with knowledge of things and keep simplicity and moderation. There is no room for bright colors and experiments with accessories: you have to feel safe and comfortable in this room. Here are some recommendations to help you decorate your bedroom in boho style, and at the same time provide a cozy, relaxing atmosphere.
Rugs, kilims, mats
A retro-style kilim, a fluffy rug with a geometric pattern, a raw rice straw mat – boho style opens up a ton of possibilities. You can even use several rugs or mats at once, if they help you create the right mood for relaxation and laziness.
Bed decoration
Also in the arrangement of the bed boho style allows us to let the imagination run wild. Bed linen, cushions and bedspread are some of the accessories that should be given special attention. Stock up on several sets of ethnic patterned bed linen and patchwork bedspreads. And if you prefer more subdued solutions, you can also use simple, single-colour bedcovers made of natural fine fabrics (cotton, linen or satin).
Combining fabrics of different textures and weave density, as well as layering of pillows will be an interesting solution. As far as pillows are concerned, you can't limit yourself in this matter. The more colourful and patterned cushions you have, the better. Decorate your armchairs, chaise longues and even the floor with them. Decorate your armchair, chaise longue and even the floor to create a cosy and warm atmosphere in your bedroom.
Lighting
Intimacy in the bedroom depends largely on the type of lighting. It should be warm, soft and diffused. This can be achieved by adding side lamps made of rattan, paper, oriental lamps and garlands hanging over the bed. Don't forget to use mood candles and incense sticks to create a fairy tale atmosphere.
Simple furniture
Simplicity is the most important thing in boho style. Simple wall colors, simple bedding, wooden floor and simple furniture – all this works perfectly together in the bedroom interior. A piece of recycled furniture, be it a coffee table or a bedside table, will add a unique character to the interior.
Handmade items
Authenticity is what counts in boho style, that is why the interior must include handicraft items: knitted blankets and rugs, hand-sewn patchworks, mirrors in jewelry frames, pottery, macramé and moccasins on the walls – all these help to create a unique atmosphere and self-expression. Boho style is not about copying unfamiliar cultures, but about expressing your personality with suitably chosen accessories.
Plants
To make your bedroom wild and natural, fill it with living plants. They can be around the bed, hanging, in hand-woven pots or strung along the ceiling – the more garden-like your bedroom, the better!
Main Photo: Cole Keister/unsplash.com